VF1000R
In March 1984 Honda introduced the VF1000RE in Europe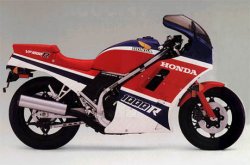 1984 VF1000RE
the styling was a celebration of the V4's racing heritage and the VF1000R was a showcase for the technology Honda had developed on the race track. The super sports bike still featured the same 998 cc V-4 engine in its rectangular section pipe frame but this was the first VF1000 to have gear driven cams that would become a trademark of future V4 Hondas, beginning with the VFR750. The VF1000R modifications increased the claimed output of the V4 engine to 122 bhp (91 kW) or 125bhp (American Release).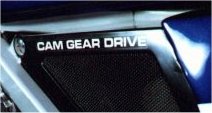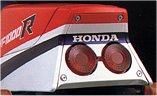 The RE colour scheme was Fighting Red with Shasta White and Candy Aleutian Blue. The bike had a red front mudguard, fork legs, centre section, and seat. The upper fairing, fuel tank, and "1000R" stripe were blue and the lower fairing was white. Like the VF500 and VF750 the 1000R has the Honda wings on the tank.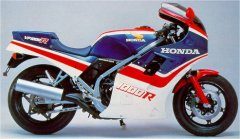 1985 VF1000RF
The RE was discontinued in April 1985 to be replaced by the VF1000RF. The bike was redesigned (losing the twin headlights) to satisfy the American market who had to wait a year before the bike was sold in the USA.[1] The RF was produced in the same colour scheme as the RE but with revised decals.
In March 1986 the VF1000RG is introduced in the Rothmans Team Colours with revised logo decals and was discontinued in August 1987. Six months later in February 1988 the VF1000RF is discontinued.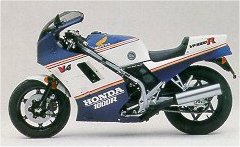 1986 VF1000RG