VF1000F2
Following the release of the VF1000FF in 1985, a fully faired version was introduced, and the VF1000F2(F) was launched in April 1985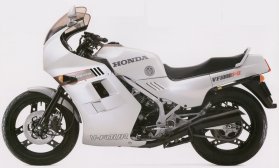 VF1000F2-F(G) 1986
The powerful 1000cc V-4 had been packaged into two super sports bikes and it was now time to show that the VF could be a real sports tourer too. The 116 bhp (87 kW) F2 included the same styling changes we had seen in the VF1000FF but Honda added a more aerodynamic full fairing which covered most of the engine, and changed the seat design to improve comfort for rider and passenger over long distances.
The F2 has the name of the French endurance racing circuit "Bol d'or" across the top of the fairing behind the indicator, giving this VF it's Bol d'or nickname. An extra radiator is included to assist cooling and is integrated into the "wind tunnel" designed fairing. The fairing, designed to increase rider comfort and reduce drag, has a built in ventilation system and twin storage "pockets".
The cockpit was redesigned too with a centrally mounted fuel and coolant temperature gauge, new style speedo and tachometer with yellow backgrounds. The twin headlights first seen on the VF1000R are also included on some models. Whilst suspension and braking specifications remain the same as the VF1000F/FE, the F2 is the heaviest of all the VF's weighing 145Kg. Engine and frame modifications were carried over from the development of the R and FF models, but the F2 still had chain driven cams.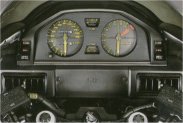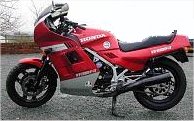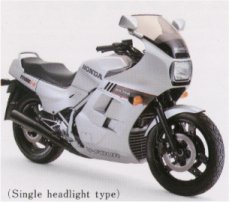 The VF1000F2-(F/G) was discontinued in May 1986.