VF1000F & Interceptor
The first production motorcycle in the 1000cc VF range known as the 1000 Interceptor, was launched in the USA and Canada in March 1984.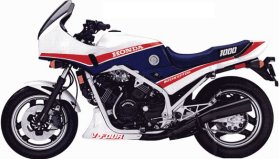 March 1984 (VF) 1000 Interceptor
The Interceptor had a 998cc 113 BHP 16 valve V-4 engine with double over head chain driven cams. The bike featured adjustable Pro-Link rear suspension with adjustable braced front forks, silver aluminium ComStar wheels (16 inch front, 17 inch rear), and an aerodynamic half fairing and lower cowl with single rectangular headlight. Three discs comprised the breaking system with dual discs and twin piston calipers at the front and a single disc with twin piston calipers at the rear.
The Interceptor was available in Blue/White/Red (Candy Aleutian Blue with Shasta White), Black/Red/White (Candy Alamona Red with Pearl Shell White) or Black/Silver/White. The "Honda" and "Interceptor" striping across the tank and side panels were red or blue.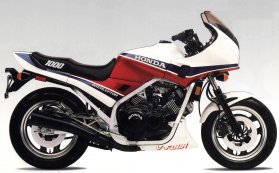 1000 Interceptor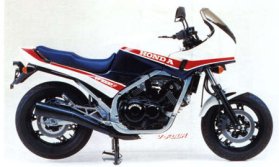 The 1000 Interceptor had the word "Interceptor" in white on red across the side panels and "VF1000F" stenciled in white on the seat, the "V-FOUR" graphic is outlined in red on the white cowl, later the "Interceptor" name is dropped and "VF1000F" appears in white on red across the side panels. The engine and exhaust were finished in black with silver cylinder head covers. Extras available for the 1000 Interceptor included an engine guard, rear seat cowl, luggage rack and body cover.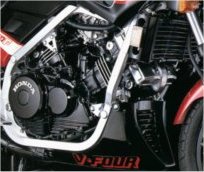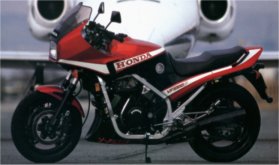 March 1984 - April 1985 VF1000FE
In Europe the "Interceptor" was launched as the FE model in 1984 and reported engine power output was increased to 116 horsepower (87 kW). Features such as Honda's dive control system (TRAC) and adjustable suspension were still present with the biggest change being the colour schemes available in Red/White, Blue/White and Silver/Black the graphics are in red on a white background, the "Interceptor" graphic is replaced with VF1000F below the tank and the "Honda" tank graphic stretches across the half fairing. The aluminium Comstars are now black. The VF1000F was discontinued in April 1985.The evolution of the VF1000F(1) to the VF1000F2 began in April 1985 with the VF1000FF (and subsequent rare FG) model. The styling of the bike changed with new side panels and grab rail. The 16-inch (410 mm) front wheel was replaced with an 18-inch (460 mm) wheel and the bike was available in Silver/Blue or Silver/Red. The "Honda" tank graphic appears in white and "VF1000F" is moved to the rear of the side panel in black.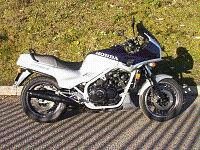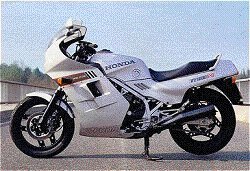 VF1000FF 1985-1987 / VF1000F2
The VF1000FF was sold in Europe, Australia and Canada and was discontinued in August 1987.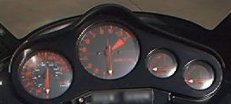 VF1000F & FE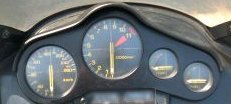 VF1000FF
VF1000F2